Natural Organic
Coffee Beans
Coffee beans of the finest quality and highest grade like Colombian, Espreso, Sumatra and French Roast natural organic coffee
Natural Organic Coffee Beans – Mountain Grown
For centuries coffee beans were grown and harvested organically, without the use of pesticides, herbicides or other harmful chemicals.
Most mountain grown organic Arabica coffee beans were also "shade" grown coffees. These shade grown organic coffee plants flourished under a natural canopy of larger indigenous trees, which in turn provided a natural habitat for birds and small animals that helped control the pest and insect population.
Historically, organic coffee plants were also fertilized organically by composting leaves and the natural pulp from coffee cherries.
Changes in the Organic Coffee Industry
Things changed in the coffee industry during the last three decades of the 1900's. The modern age brought many technical advances to coffee production and threatened the very existence of organic coffee farms.
To increase coffee yields, coffee producers put less emphasis on shade grown and organic grown coffee beans and began to produce "sun" cultivated coffee plants. Unfortunately, it was necessary to cut down the shade trees in order to produce sun cultivated coffee crops.
Coffee farmers also switched to artificial fertilizers and pesticides. The deforestation and use of pesticides and chemical fertilizers eventually led to serious environmental issues including soil erosion plus chemical and pesticide contamination of both soil and water systems. As might be expected, the natural biodiversity of the coffee regions were also adversely affected.
Revitalizing Organic Coffee Production
In recent years coffee has become a consumer driven product. The current push towards "green" living and environmentally friendly products has helped the organic coffee industry tremendously.
Recognizing consumer demand for organic coffee beans (and Fair Trade Coffee Beans), many coffee farmers have responded and started producing natural organic coffee beans, grown and harvested without chemicals or artificial fertilizers. In fact, many of today's organic coffee producers are also harvesting and processing their Arabica coffee beans organically, mostly by hand.
Shade grown organic coffee beans have made a comeback as well. The preservation of the natural forests helps to minimize soil erosion while creating a natural habitat for birds that in turn helps control insects and pests
This move towards environmentally friendly and socially responsible coffee products has fueled the coffee producer's efforts to attain one or more of the three coffee certifications including:
Shade Grown
Organic
Fair Trade
Colombian Natural Organic Gourmet Coffee Beans
Café Organico Mesa de Los Santos Colombian Coffee is an authenticated natural organic Colombian coffee that is grown and harvested without any chemicals or pesticides. From harvest to market the entire coffee processing system is all done organically. Natural organic Colombia coffee beans is arguably one of the world's highest grade gourmet coffees, made from 100% natural organic Arabica coffee beans.
Espresso Natural Organic Gourmet Coffee Beans
Why reserve these organic espresso gourmet coffee beans for standalone espresso coffee drinks when they are ideal for making cappuccinos, lattes and macchiatos. Natural Organic Espresso Coffee Beans are one of our best selling organic coffees, grown, harvested and processed organically and by hand.
French Roast Natural Organic Gourmet Coffee Beans
Also referred to as 'Spanish roast' or 'heavy roast', the Natural Organic French Roast Coffee Beans are prepared in a dark roast and is known for its beauty and boldness. These dark roast organic coffee beans exhibit a mystifying rich taste, bringing a light bitterness to the palate. This organic coffee is a great choice for adventurous coffee aficionados who enjoy a strong brew to perk up their day.
Guatemala Natural Organic Gourmet Coffee Beans
Natural Organic Guatemala Santiago Atitlan Coffee derives its name from Lake Atitlan, which is located in the foothills of three surrounding volcanoes. These Guatemalan organic coffee beans are excellent hard bean coffees that grow and flourish along the volcanic mountain slopes in the richest of volcanic soils. Natural organic Guatemala coffee beans are also sun dried and deliver a rich and full bodied taste with a light floral bitterness to satisfy even the most discerning gourmet coffee lover.
Sumatra Natural Organic Gourmet Coffee Beans
This Indonesian-based coffee has a distinct and exciting bitterness with a deep, full bodied taste and aroma. Natural Organic Sumatra Gayo Mountain Coffee beans are all natural organic coffees handpicked and hand sorted from the high mountains slopes of Sumatra, the largest island of Indonesia.
That's Coffee is your Online Gourmet Coffee Bean Store
SEE ALSO
Gourmet Coffee Beans
Decaf Coffee Beans
Organic Coffee Beans
Fair Trade Coffee Beans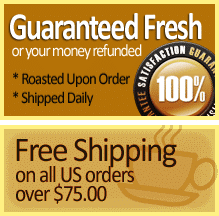 CATEGORIES
GOURMET COFFEE INFO
African Coffee Beans
Americas Coffee Beans
Arabica Coffee Beans
Kona Coffee Beans
Hawaii Coffee Beans
Sumatra Coffee Beans
Guatemala Coffee Beans
Fair Trade Coffee Beans
Ethiopia Coffee Beans
Mexico Coffee Beans
Blue Mountain Coffee
Indonesian Coffee Beans
Espresso Coffee
Natural Organic Coffee Beans
Our Top Selling Coffees