About Us
Since 2010 we have been the leading roaster for premium online gourmet coffee beans! We're a team of coffee drinking enthusiasts proudly serving freshly roasted beans to fellow coffee-addicts. All of our gourmet coffee beans are freshly roasted and shipped the same day you order.
About That's Coffee
Our team is a collection of highly caffeinated and passionate individuals looking to provide the highest grade product and service. We launched in 2010 with a brewing desire to transform the online coffee market by providing small batch bean roasting and same day shipments. Fast forward a decade; the concept has drastically revolutionized the industry and allowed for coffee-lovers to brew a fresh pot with 100% gourmet Arabica beans.
Whether you're a coffee drinker, coffee shop owner, or wholesale buyer looking for the best product possible – we have you covered! Our fan base is constantly growing and has become incredible advocates for our brand. With more and more orders and testimonials from customers pouring in every month we continue to double down on the product line, quality, and service.
What Are We Known For?
We're well known amongst coffee enthusiasts for providing 100% Arabica coffee beans sourced from the top destinations in the world. With over 190 coffee beans in stock we have a vast understanding of the leading coffee bean farmers, their farming process, handling procedures, and farming practices.
Most Unique Flavored Coffee Beans
While we have a deep appreciation for all types of coffee beans, we have a passion for creating some of the most unique flavored coffee beans in the world. We have been recognized as one of the leading experts in flavored coffees and we're just getting started – but, not really, as we've mastered the skill for over a decade.
Only 100% Arabica Coffee Beans
Mountain grown Arabica coffee beans typically grow in cooler climates and take longer to mature producing a larger, sweeter and denser coffee bean with significantly less caffeine than the inferior tasting Robusta Bean. To ensure the best quality coffee we only use 100% Arabica in our premium gourmet coffee beans.
Only Small Batch Roasting
Small batch coffee roasting means that our gourmet coffee beans are roasted in small batches of no more than 50 lbs at a time. Small batch roasting gives a more consistent roast throughout the batch and offers superior quality control. This also allows us to roast on demand daily.
Always Fresh Roasted Just Prior to Shipping
We check our online coffee bean orders three times daily and the orders are processed as they are received. To ensure absolute freshness of our coffee bean products, all our gourmet coffee beans are fresh roasted the day it is shipped and packaged in either 16 ounce (1lb) or 5lb heat sealed valve bags.
Only Heat-Sealed Valve Bags
In the past, hot roasted gourmet coffee beans needed to cool first so it could de-gas before being packaged. Today, our fresh roasted gourmet coffee beans are packaged while still hot, in air tight, heat sealed valve coffee bags. As the coffee beans cool the small one-way valve allows the gas to escape the sealed bag, taking the oxygen with it. Since no air can get back into the sealed coffee bag, the coffee beans are virtually vacuum packed so that no matter when you open the bag, the gourmet coffee beans are as fresh as the day it was roasted. Heat sealed valve bags give fresh roasted gourmet coffee beans a much longer shelf life.
Buy Whole Bean or Ground?
Whole bean gourmet coffee beans have a much longer shelf life than ground coffee. For the absolute freshest, best tasting coffee we always recommend that you buy whole bean coffee and grind just prior to brewing. We understand however, that grinding just prior to brewing may not always be possible for some people so we'll gladly grind your gourmet coffee beans for you. As you purchase, please specify Whole Bean, Drip Grind, French Press Grind or Espresso Grind.
New & Rare Gourmet Coffee Beans
We get our coffee from suppliers in all 3 geographical coffee areas, from Africa, from Asia/India and from the Americas, including the US, Central America and South America.
Some gourmet coffee beans are rare and available in only limited quantities. Our fresh roasted gourmet coffees are available online while supplies last, so please check back often. We also continually add New Coffee Bean Products as they become available. To see our available online gourmet coffee beans visit any of these coffee categories;
Gourmet Coffee Beans
Natural Organic Coffee Beans
Fair Trade Beans
Decaf Coffee Beans
Espresso Coffee Beans
How's Your Coffee Bean?
Over the past few decades North Americans have come to truly know and appreciate good quality gourmet coffee. The majority of our customers are regulars; repeat customers who come back time and time again to enjoy our premium gourmet coffee beans and/or to try our new coffee products and our Coffee Gift Samplers. If you are one of these customers, we thank you! Let's keep having coffee together.
If you are new to That's Coffee, welcome. We know you'll have a great coffee experience. Please, Join Us for Coffee and invite your friends!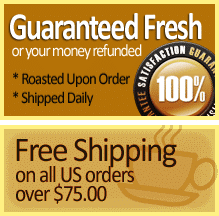 CATEGORIES
GOURMET COFFEE INFO
African Coffee Beans
Americas Coffee Beans
Arabica Coffee Beans
Kona Coffee Beans
Hawaii Coffee Beans
Sumatra Coffee Beans
Guatemala Coffee Beans
Fair Trade Coffee Beans
Ethiopia Coffee Beans
Mexico Coffee Beans
Blue Mountain Coffee
Indonesian Coffee Beans
Espresso Coffee
Natural Organic Coffee Beans
Our Top Selling Coffees