Shipping Coffee to Others – Instructions
Shipping Instructions for Shipping Gourmet Coffee To Friends & Family as Gifts
Sending Gourmet Coffee gifts to friends and family has never been this easy. Our shipping services let you make a gourmet coffee purchase and have it shipped to a different address.
Why not surprise someone with some gourmet coffee beans from That's Coffee?
Just follow these simple instructions:
1) Log into your account or create an account if you are a new customer.
2) Place all the products you want to send to one (1) recipient in your shopping cart. You can calculate shipping by clicking the "Estimate Shipping" logo and choosing the corresponding address from the dropdown menu*.
3) Click on "Go to Checkout" as you would with a normal purchase.
4) In Step 1 of 3 (Delivery Information):
Make sure the correct shipping information is showing. If the address is not the one you wish to send to, click the "change your address" button and choose the right address from your address book or add a new shipping address.
In the Special Instructions field, you can write a special message that we will include in the package so the recipient will know who sent it.
Each shipment to a different address needs to be ordered separately
5) In Step 2 of 3 (Payment Information) ensure that the billing address corresponds with your credit card information. The billing address is NOT where your package will be sent.
6) Proceed through check-out as usual.
* If you are shipping to the address for the first time and wish to estimate shipping before continuing to checkout, click on "My Account" from the main navigation and then "View or change entries in my address book". Click the add address at the bottom right of the screen. Place each order separately if they are going to different addresses.
Note:
Make sure to place each order to each shipping address separate. One order = one package to a single address. Also, make sure your payment info is based on the address your credit card statements are sent to and not the address that the product will be shipped to.
With so many gourmet coffee beans to choose from, you can easily create a coffee lover's gift basket they'll always remember. If you are not sure what they like, order from a great selection of sample packs then you are sure to find the perfect coffee.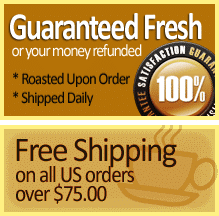 CATEGORIES
GOURMET COFFEE INFO
African Coffee Beans
Americas Coffee Beans
Arabica Coffee Beans
Kona Coffee Beans
Hawaii Coffee Beans
Sumatra Coffee Beans
Guatemala Coffee Beans
Fair Trade Coffee Beans
Ethiopia Coffee Beans
Mexico Coffee Beans
Blue Mountain Coffee
Indonesian Coffee Beans
Espresso Coffee
Natural Organic Coffee Beans
Our Top Selling Coffees