Just in Time for the Holiday
Gourmet Coffee Gift Sets
Make a lasting impression on loved ones or surprise friends with a new and exciting coffee themed Christmas gift this holiday season.
All of our gourmet coffee Christmas gifts feature our 100% Arabica coffee beans of the highest quality, freshly roasted in small batches just for the lucky recipient.
Perfect for co-workers, clients, family members or close friends. Our "Ship to Others" lets you purchase a gift from the comfort of your own home this busy holiday season. We will freshly roast the coffee beans, assemble the package and ship it on its way, just in time for Christmas!
Christmas Gift Baskets Featuring Gourmet Coffee
These Christmas gift basket ideas are a great way to give gourmet coffee this holiday season. Only available at this time of the year!
Christmas Flavored Coffee Beans
At only a few calories a cup, these 100% Arabica coffee beans are the best way to enjoy the goodness of Christmas baking and sweets.
Gourmet Coffee Gift Certificates
The perfect gift for the person on your list who is hard to buy for. Our online gift certificates can be purchased and sent to anyone through email. The recipient can choose when to use their gourmet coffee gift certificate to make sure they get the freshest gourmet coffee.
That's Coffee is your Online Gourmet Coffee Bean Store
SEE ALSO
Decaf Coffee Beans
Organic Coffee Beans
Fair Trade Coffee Beans
Coffee Gift Set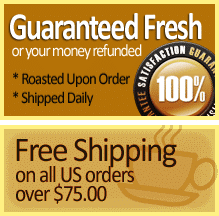 CATEGORIES
GOURMET COFFEE INFO
African Coffee Beans
Americas Coffee Beans
Arabica Coffee Beans
Kona Coffee Beans
Hawaii Coffee Beans
Sumatra Coffee Beans
Guatemala Coffee Beans
Fair Trade Coffee Beans
Ethiopia Coffee Beans
Mexico Coffee Beans
Blue Mountain Coffee
Indonesian Coffee Beans
Espresso Coffee
Natural Organic Coffee Beans
Our Top Selling Coffees