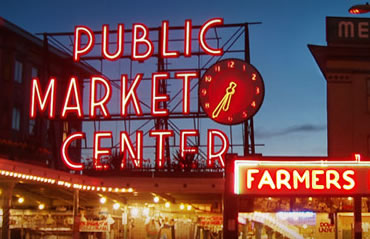 Seattle, the birth place of Starbucks, is considered to be America's Gourmet Coffee capital it is well known for high quality coffees. Starbucks is a world wide coffee brand found on almost every street corner in the World's major cities.
Coffee arrived in America in the 1600's brought by John Smith to Jamestown, it was mostly used as an extract. Then in 1867 Monet's Restaurant and Coffee Salon opened in Seattle. In the 1970's Seattle's latte culture flourished with good quality filter coffee and espresso drinks gaining in popularity. In 1970 Seattle's Best Coffee Company opened its doors on Pier 70. The founder used a secondhand peanut roaster to roast his beans, then the next year Starbucks opened in Pikes Place Market.
Seattle and the Pacific Northwest has a love for gourmet coffee like no other place with coffee being served in art galleries, dental offices, design stores and in carts along the roadside. The Seattle Times even has a separate listing for Barista's. Baristas get 6 months of training in making the perfect espresso drink and latte art. Resisdents of Seattle are fussy when it comes to gourment coffee and won't return to a coffee house with bad coffee, but its not just about Starbucks, the city is home to many microroaster's and unique coffee shops to satsify your gourmet coffee craving.