If you have to think of some premium coffee growing regions you will likely come up with countries such as Ethiopia, Costa Rica, Jamaica or Brazil. It's true, there are a few major coffee producing countries that dominate the market. But that doesn't mean there aren't other smaller countries that produce premium coffee beans. Many of these countries are overlooked because their production is much smaller. Remember: quantity does not equal quality! Bolivia is a perfect example of this. The South American country produces a smaller crop of the highest quality coffee beans; Bolivia is only ranked 38
th
among coffee producing countries. Yet Bolivia is building a reputation for fine quality coffee beans, especially in the past couple of decades. Often overshadowed by its neighbor Brazil, Bolivia has many sought after features to offer coffee lovers:
High altitude grown coffee
100% Arabica coffee
Organic and Fair Trade Certified
With its growing reputation, take a few minutes to learn about Bolivian coffee beans!
The Province of Caranavi, Bolivia
The country of Bolivia neighbors Peru, Brazil, Chile, Argentina and Paraguay. It is one of the less populated South American countries with an estimated 59,000 inhabitants in 2010. Nearly 40% of its population is under the age of 15! Bolivia's economy is driven by coffee plantations and the export of its organic coffee beans to countries all over the world. The majority of Bolivia's coffee is produced in the province of Caranavi and has become one of the main cash crops for the country. Caranavi is just one of the twenty provinces that comprise the country of Bolivia in South America. Caranavi is located in the Yungus region in eastern Bolivia. Its unique geographical positioning is part of the transition zone in Bolivia where the Andes Mountains turn into the eastern forests. The climate in this area is perfect for growing coffee. At high altitudes, Bolivia is often referred to as the Rooftop of the World. The rich and fertile soils also contribute to the flavor of the coffee beans.
Coffee Processing and Technology
Coffee beans from Bolivia have not always been recognized for their fine quality and great flavors. In the past, Bolivian coffee farmers would de-pulp the coffee cherries and transport them up steep mountains while the beans were still wet. This caused the beans to freeze and unfreeze during the journey, completing ruining the natural flavors. More recently, coffee experts have recognized that Bolivia has ideal growing conditions for coffee and if it weren't for the transportation of wet beans the local coffee farmers could produce some of the very best in coffee. Local farmers now process and dry their beans on their own farms before transporting the beans. In 2005, a widowed coffee farmer won the Cup of Excellence competition for her coffee beans grown in the Yungas region. This further helped improve the image of Bolivian coffee and has increased is rarity.
Organic and Fair Trade Coffee Beans
Many coffee lovers are becoming more conscious about chemicals and organic farming practices. Bolivia's traditional farming practices are inherently organic. Many farms are getting certification to be labeled as organic coffee. These farms are also striving to meet Fair Trade standards which help improve the quality of life for everyone involved in the coffee production.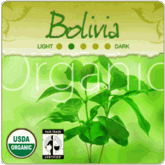 When you purchase Bolivian coffee beans, chances are they are both organic and fair trade certified!
Common Characteristics of Bolivian Coffee Beans
Bolivian coffee beans are often compared to Columbian coffee beans. Some common comments on Bolivian coffee that it is:
Delicate and bright
A classic clean cup
Aromatically sweet
Subtle in fruit flavors such as pear, apple, apricot, tangerine and lemon
Roasted to take on flavors such as malt, mild chocolate, nut, caramel and honey
Sweet tasting
Pleasantly balance
Versatile for pairing with almost any meal or dessert
Try a Cup of Bolivian Caranavi Coffee Today
Family run coffee plantations in Bolivia produce some of the best coffee that is spicy and heavy in body. The
Bolivian Caranavi Organic Fair Trade coffee
pays tribute to these 'colonials' who have worked the land for years and know how to use their fertile soil and high elevations to produce wonderfully cupped coffee. Order a 1 lb bag for yourself or get a 5 lb bag to share with all your friends!
"Bolivian 'Colonial' Caranavi Organic" courtesy of your online coffee bean store: Gourmet Coffee Beans