There are 62 different coffee brands produced throughout Panama in Central America. Many people who visit Boquete, Panama feel as if they have died and gone to coffee heaven when they arrive in the country's capital. As the coffee growing center of Panama this small town is a hub for the Panama coffee industry. The smell of roasting coffee fills the air as locals talk of all things coffee over steaming cups of hot coffee.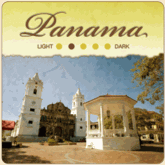 Coffee is grown on plantations all over Panama but the very best of the country comes from the Chiriqui Province near Boquete and Volcan. This area provides cool slopes of rainforest that allow the coffee cherries to mature to perfection. The weather, location, altitude and fertile volcanic soil all contribute to the perfect coffee bean in Panama. Typically, coffee farmers in Panama tend to use traditional growing methods and do not use herbicides or pesticides. So while Panama coffees may not be certified organic they most likely are inherently organic. Overall, Panama coffee beans have a bright tone with strong floral aromas and clean fruity flavors. In competitions Panama beans outcup some of the rival, higher priced coffee beans. As a result Panama seeks pride in its consistent quality Our
Panama Boquete
coffee is crisply acidic with a light body. Advocates love that it is fruity yet spicy. This comes from its cherry, peach and orange flavors highlighted by cinnamon undertones. For those who have had the privilege of traveling to Panama and enjoying its coffee in rainforest villages our Panama Boquete comes as close as possible to the real thing!
"Panama Boquete Coffee" courtesy of your online coffee bean store; Gourmet Coffee Beans