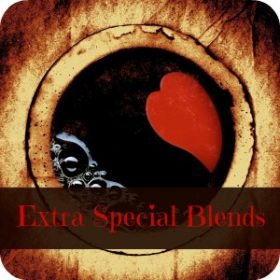 Not to disappoint our Roastmaster has combined the rich goodness of chocolate with toffee & caramel. Customers say this chocolate flavored coffee makes a smooth and relaxing coffee without being too overpowering in chocolate or caramel. We say we've reach the perfect balance!
The Extra Special Blends gourmet coffee gift basket is the perfect way to taste four of our premium flavored coffee beans. Enjoy the rich cocoa-nutty flavors of Chocolate Almond coffee beans. Watch your calories while enjoying the sweet flavors of English Toffee premium coffee beans. Be reminded of sweet treats such as brittle and caramel candies with French Caramel premium coffee beans. Sip the sweet subtle flavors of the all American favorite; Vanilla Crème gourmet coffee beans. Amazing value and an inexpensive way to try all your favorite coffee flavors; buy a gourmet coffee gift basket for a friend, colleague or client and we will send the fresh roasted beans straight to their doorstep!

Our Flavored Blends – 4 Gourmet Coffee Gift Basket Sampler Pack are:
Great gift!
Light to Medium Roast
4 x 1/2 pound bags
Packaged in heat sealed valve bags to lock in freshness
Freshly roasted the day it is shipped
Available in Whole Bean, Drip Grind, Espresso Grind, and French Press
SAVE ON SHIPPING – Order Multiples!
That's Coffee Special Flavored Blends Includes 4 Half lb Bags of Flavored Gourmet Coffee Beans:
Coffee Tips:
Roasted Whole Bean Coffee has a longer shelf life than ground coffee and is readily available on the market. When stored in a cool, dry place fresh roasted whole bean coffee will last for a number of weeks without losing too much flavor and aroma. It is preferable to store whole bean coffee in air sealed containers. Ceramic storage containers are recommended since plastic or metal containers can sometimes affect the flavor of the coffee over time. Glass containers are acceptable provided these are stored in cool dark cabinets. Whole bean gourmet coffee is recommended for home use for a number of reasons. As stated, whole bean coffee has a longer shelf life and provides a better, more flavorful cup of coffee, especially if brewed immediately after being ground.
Ground Coffee has the shortest shelf life of all and is best brewed right after being ground. Ground coffee is the most porous form of coffee and can loose its flavor and aroma in a matter of days. It's best to try and keep ground coffee stored for as short a time as possible prior to brewing.
Looking for that perfect gift for your boss, coworker or friend? You want something nice and thoughtful to give for a special occasion, birthday, Christmas, Mother's Day or "Just because". It is rich and silky, flavorful, and elegant. YOUR SEARCH IS OVER! This amazingly wonderful little gift set fits the description of all of the above!
When you open the coffee bag, you will know you have something special. Also a great gift idea for those hard to please coffee lovers on your list. Masterpiece Coffee – a symphony of flavors in every cup!
Satisfaction Guaranteed!
See and order our full Flavored Coffee Bean Gift Set collection for you, friend, colleague, or something you love.
Get Free shipping on all US order above $75.
Order Now